Würzburg – In late March, Schweinfurt-based Apicon GmbH held their annual meetup in the pretty town of Würzburg. All customers and partners were invited. The two days were packed with an interesting mix of presentations by customers and Apicon itself. The event was complemented wth workshops about the SAP interfaces and the "Apicon Data Master" master data management suite.
Sersheim-based ICCS GmbH was of course invited as well and participated not only as partner but also as speaker during the event. ICCS took part in two customer presentations.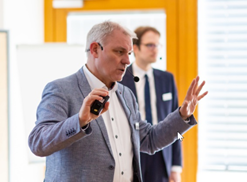 The first presentation focussed on the worldwide interfaces of Steinhagen-based Hörmann Verkaufgesellschaft (Hömann VKG, "Hörmann sales company"). The specialist for garage doors, home doors and operators with more than one billion euros in annual turnover has employed the camos solutions for decades. It also uses Apicon's certfied SAP interface. The solution centers not only on the master data replication but also on real-time condition retrieval from inside SAP. This allows the company to price individual configurations based on dealer-specific conditions. This way, thousands of dealers worldwide can use the configurator to get real-time purchase prices in order to give their end customers accurate price quotes.
A whole different but no less exciting field is the core competence of Grünstadt-based Continental CPT GmbH, which specializes in turbo chargers for cars. This business is also driven by a camos configuration solution. However the key aspect of this project is an engineering-driven sizing of the required turbo charger. In order to quickly create a high-quality sizing for their customers, Continental replicates SAP master data via the Apicon interface. Even documents (document info sets) are shown in the configurator by replicating the header data and loading the actual originals in real-time.
The 2019 edition of the Apicon Forum was a great event and we are looking forward to the 2020 edition!
For any matters connected to this article, please approach Maximilian Franck (ICCS GmbH)